| | |
| --- | --- |
| | Whitaker Family History |
---
I have moved this site to a blog at http://thorpes.info/whittaker/
This page is dedicated to Whitacre, Whitaker, Whitecar, Whitekar, Whiteker, Whitaker and Whittaker genealogy in the Lancashire, England area, particularly the cities in the map below. All the information that I have collected (2061 names from about 1450 to 1850, last updated January 24, 2007) can be download as a zipped GEDCOM file, whitaker.ged or whitaker.zip or I can send it to you. If I have a record of the name you are looking for, it will be in that file.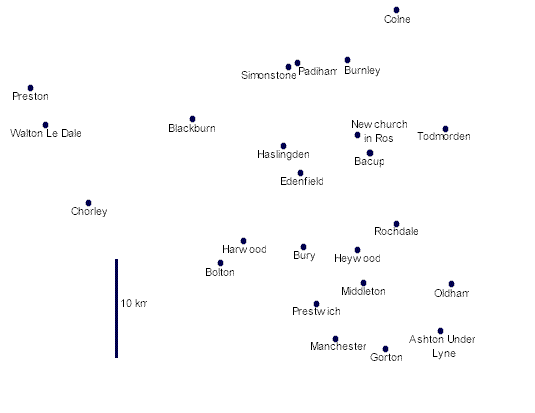 Whitaker appears to be a Saxon name. Some of the earliest recorded uses of the Whitaker name are in Warwickshire where at Wheatacre. When Duke William wasted the northern counties in 1070, many Saxon families were forced north. Whitakers were influencial in the county of Warwick where they were seated at Nether Witaker (Nether Whitacre). Traditionally they were descended from Wihtgar, a nephew of Cedric, King of the West Saxons. They also held the villages of Padiham and Simonstone, in Lancashire. They also branched to The Holme, Besley Hall and to Balkholme manor in Yorkshire, Mendham and Knoddis Hall in Suffolk, and Lyssom House in Hereford.
If the information you need is not in the GEDCOM file mentioned above, you may try sending me a GEDCOM file of your Whitaker ancestors at weichi99@hotmail.com. Include your email address in the notes for your key ancestors. If someone finds a match to information you seek, they will then know how to contact you. If you would like to contribute your Whittaker data to this collection, please send me a GEDCOM file with the information at weichi99@hotmail.com.
---
I am researching the ancestors of Nancy Whittaker, born about 1809 in Alkrington, Lancashire.
---
Links to useful Whittaker and Lancashire genealogy:
Whitaker Family History and Genealogical Research Homepage - A great Whit(t)aker site with comments on the origin of the name, links to many sites.
Whittaker Family Genealogy Forum - GenForum's Whittaker site.
Fellow Whitaker Researchers - Contact info for Whitaker researchers.
The Whitaker Family Research Exchange - A good list of Whitaker researchers. Most start with ancestors that are in North America.
Lancashire Cemeteries - Transcriptions
Other Lancashire links that I have found useful.